Creating a collaborative work environment requires more than intention and a mission statement on company letterhead. It involves thought leadership on behalf of experienced leaders who are committed to providing resources, support and consistent effort toward long-term goals. As the HR, payroll and benefits shared services center for the entire University of California system, UCPath's mission is to support the UC workforce. We are guided by a single purpose — to serve UC employees as they carry out the UC mission of teaching, research and public service.
Let's explore three significant elements of the workplace culture at UCPath: the collaborative environment, ease of connections and support for career growth new hires can expect when they join the team.
A Collaborative Environment
At UCPath, we acknowledge that making friends at work can support workplace satisfaction, productivity and engagement — that's why we are intentional about creating an environment where peers can thrive together. Working within a collaborative environment elevates the level of possible success for every UCPath team member.
As a shared services organization that provides more than 230,000 UC employees with payroll, HR and benefits services, UCPath relies on the collective efforts of many teams that collaborate closely every day with each other and with teams at every UC location.
For example, in her role as Operations Liaison, Eileen facilitates communication between UC location teams and UCPath. She reports that collaboration is vital to her workplace success and that it's one of the highlights of her job:
"My favorite part about working for UCPath would be the people — the community. Being a part of something as grand as the University of California is great in itself, but I enjoy the opportunity to be a little piece of each university location. At UCPath, that community approach helps us see that what we're doing makes a difference."
Finding Solutions
UCPath promotes collaboration to develop innovative solutions. When team members think big and come to the table with their best ideas, they can support each other in their shared goal: to serve the UC workforce.
"Since the pandemic, we've had to get creative and have really stepped up to the challenge by ensuring we're on one team that's focused on overall improvements," says Eileen.
Tiffany, a Senior Associate in the Employee Services department, notes that UCPath's collaborative approach is her favorite part of working for the organization: "We seek input from each other, and we share ideas. The best solutions come from collaboration."
UCPath has a bold vision: to become the premier shared services organization in U.S. higher education. By embracing collaboration, our teams discover new approaches and solutions to continuously improve our functions and services.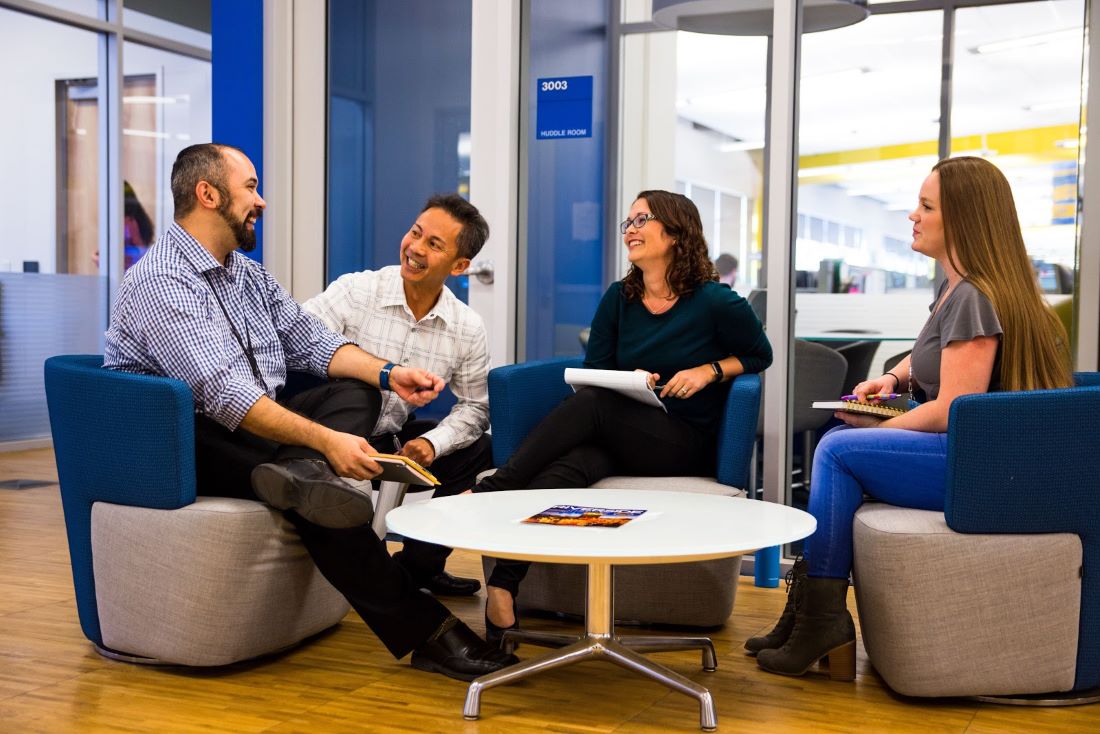 Providing Support
Collaborative approaches produce creative, innovative ideas and solutions — but they also promote a supportive work environment that helps every team member succeed in the workplace and beyond.
At UCPath, team members support their peers every day and have created a culture in which tips and advice are welcomed and appreciated because everyone has the same goal – to provide UC employees with great service.
"You're simply able to ask for help with zero resistance," says Alfredo, an Associate in the Employee Services department. "I know the phrase 'We're like a family' is very cliché, but that's what it's like here at UCPath. When you're able to support colleagues, they turn around and support someone else — it just creates this chain reaction."
UCPath is proud to offer opportunities for:
Professional development
Internal and interdepartmental advancement
Networking
Collaboration and team support make these opportunities possible for all UCPath staff. Team members are committed to the success of other team members, and employees readily help each other achieve their goals.
Making Connections
Collaboration also provides excellent opportunities to connect with coworkers, peers and leaders. Our work fosters long-lasting connections and relationships among team members, and the organization helps workers bond both on the job and off the clock.
Relationship-Building at Work
Many UCPath employees make meaningful connections while they work in their primary roles. UCPath supports and encourages these relationships, and our staff connection committee works hard to create opportunities for team members to get to know each other.
Shoab, a Process Improvement Analyst at UCPath, appreciates how easy it is to build connections at UCPath: "I like the camaraderie. My team takes walks together, and we really get to know each other during those walks. There's a lot of opportunity to build strong relationships at UCPath."
Some of those opportunities include outreach or professional development efforts — initiatives that strengthen on-the-job connections and encourage community networking.
Employee Services Associate Alfredo says that joining different groups at UCPath advances opportunities for connections: "We do a lot of outreach, and there are a lot of seminars for career building. There's a group for everyone."
Join the Team at UCPath
UCPath's mission is critical to the UC system, and we simply can't fulfill that mission without a dedicated, passionate and skilled workforce. We're focused on creating a work environment that develops and encourages that kind of workforce — a culture where employees collaborate, connect and grow.
UCPath is the shared services center for the University of California. We process payroll, benefits and other HR transactions for over 230,000 employees throughout the UC system. And, if you're looking for an opportunity to work with visionary thinkers, serve the public and make a difference, you might be an excellent fit for our growing workplace.
Whether you're new to the workforce or looking to pivot, UCPath would love to hear from you.