Employee groups bring tremendous value to the workplace. As most companies have refined their diversity, equity and inclusion (DEI) strategies to better meet the needs of workers and other stakeholders, UCPath has also furthered its commitment to prioritize and support employees throughout their professional and personal lives through the various UC Office of the President (UCOP) employee groups, which create valuable networks and opportunities for its employees. 
Learn more about employee groups below.
What Are Employee Groups at UCOP?
Most commonly, employees of similar ethnicities, gender identities or sexual orientations have formed groups to provide a supportive space to discuss their experiences at work. UC's Office of the President (UCOP) strongly supports these employee groups and the spaces they provide.
UC maintains a pioneering history of employee-led and -focused groups, dating back 30 years to the founding of the Black Staff & Faculty Organization. However, these "affinity groups" became the formal organizations operating today following creation of UCOP's Anti-Racism Task Force in 2020.
UCOP's employee groups emphasize connection, community and collaboration. In the spirit of UC's teaching, research and public service mission, they provide ample opportunities for everyone to encounter new experiences that broaden their personal and professional perspectives. The goal is to support an environment where everyone feels respected. 
Ultimately, the intention is to connect employees to build communities at work through networking, community advocacy and encouraging exploration of common interests and passions extending beyond the workplace. 
The Staff Connection Committee — A UCPath-Exclusive Employee Group
UCPath employees also created the Staff Connection Committee. This group focuses on employee connection and communication via:
Promoting organizational and personal development opportunities to UCPath employees

Instilling pride in the crucial role of supporting UC's 240,000 employees with fun staff-led activities

Strengthening ties with the broader UC and Riverside communities through special events
For example, UCPath employee Kandice is an active participant on the Staff Connection Committee.  Kandice "supports camaraderie" by sourcing creative prizes for special events and activities. She also solicits local franchise partnerships to benefit UCPath employees.
Notably, the Staff Connection Committee uses these opportunities to make UCPath a place where we enjoy coming to work. However, the importance of employee groups goes beyond the desk and surrounding buildings. Historically, UCPath employees have invited Riverside locals to mingle at events like Día de los Muertos — co-hosted with the Latinx Staff Association. The festivities accompanied a series of programs curated to mark the occasion, offering the opportunity to continue to learn about, recognize and acknowledge the rich heritage, history, cultures and contributions of our Latinx community.
The committee's biggest event is the Festival of Holidays, a seasonal celebration of diverse cultural festivities with music, food and fun for all including:
"UCPath Livingroom and Selfie Station":

For taking cozy, holiday-themed photos in UCPath's third-floor lobby

"Deck the Halls":

A holiday-themed team decorating contest

"Ugly Sweater Day":

A holiday breakfast in everyone's most garish garments

A Hanukkah Zoom Information Session:

For people interested in the over 2,000-year history of the Jewish Festival of Lights

A Kwanzaa Zoom Information Session:

For those interested in the holiday's Seven Principles and the traditional First Fruits and harvest festivals influencing this celebration 

A Closing Ceremony:

An event conclusion and holiday message from the Festival of Holidays Coalition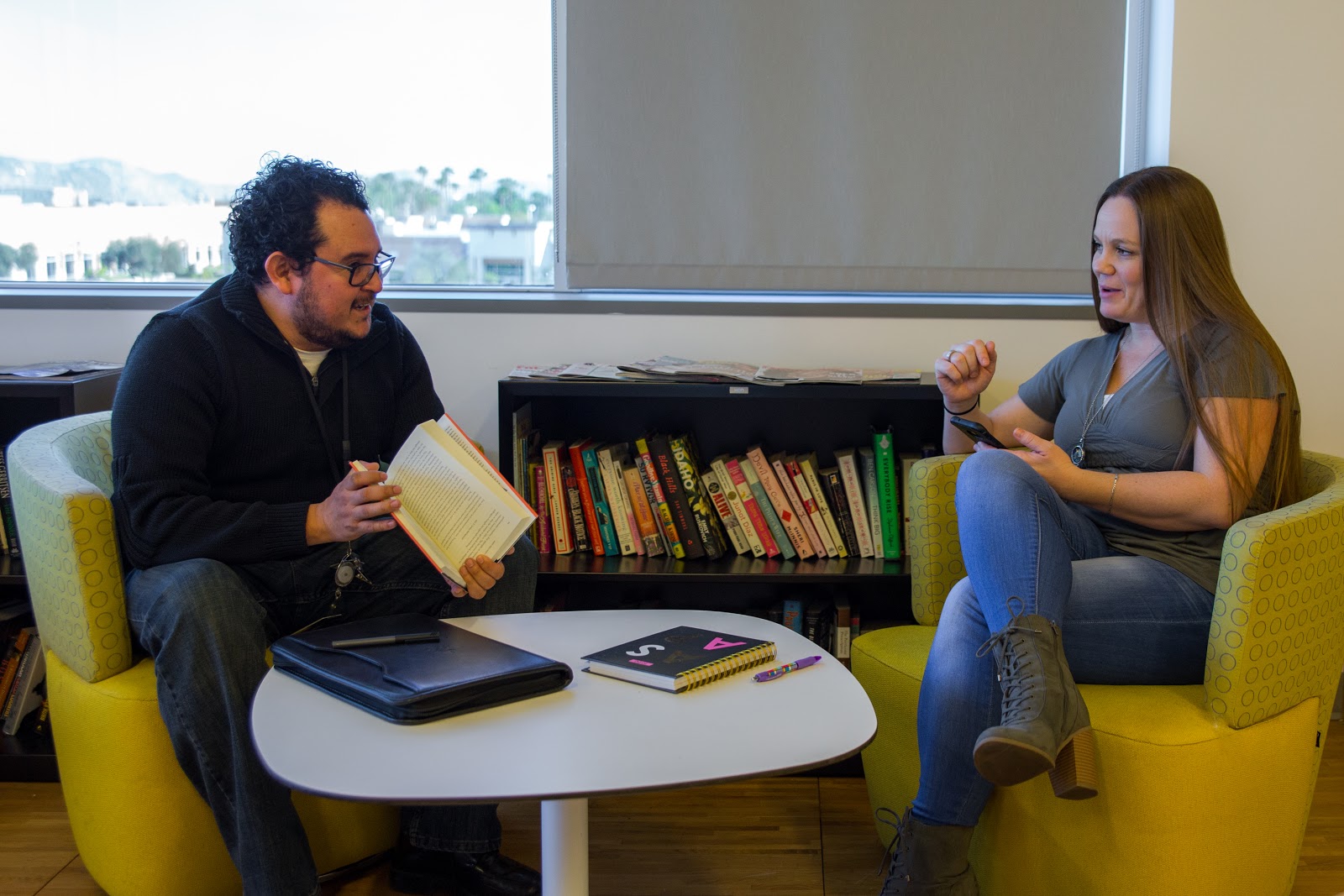 What Groups Does UCOP Offer?
In addition to UCPath's Staff Connection Committee, there are a number of other UCOP groups that foster employee connection. According to Alfredo, a UCPath employee service associate, "There's definitely a group out there for everyone in terms of community service and other interests."
Identity-Based Groups –

Focus on promoting the general welfare of their relevant communities and allies. Groups include: The Asian and Pacific Islander Staff Association (APISA), The Black Staff & Faculty Organization (BSFO), The Latinx Staff Association (LaSA), The Native American, Indigenous and Pacific Islander Staff Association (NAIPISA), UCOP Pride and Veterans Among Us

Interest-Based Groups

– Connect employees who have shared interests and hobbies. Groups include: The Crafts Group, The Lakeside Speakeasy Toastmasters Club, The Sustainability Affinity Group and UCOP Shakespeare Club.
Other groups include the OP Staff Assembly, The President's Advisory Committee on the Status of Women (PACSW), Women's Initiative for Professional Development.
Joining an employee group has countless benefits, "The plus of joining any additional organizations within the university outside of your day-to-day job is building a network, and that network is carried with you outside of just your normal duties and can really open up doors and opportunities for you for years to come."
Get Involved
If you're eager to get involved, don't forget to check the monthly calendar for upcoming meetings and events. Alternatively, you can reach out to the chair or point of contact for each group.
Not a UCPath employee? Check out our recent job postings!