Mastering the art of networking can help you advance in your career, secure higher salaries, and cultivate more rewarding relationships with co-workers and higher-ups. While networking is necessary, it can feel more challenging in modern workplaces. After all, face-to-face communication is increasingly rare in the age of instant messaging apps and remote positions.
In this article, we'll define what networking is and why it's so important. We'll also explain five effective ways to enhance your networking in the modern workplace. 
What is Networking?
Put simply; networking is the process of establishing and maintaining professional relationships. Through these relationships, you can seek out career advice, strategic contacts and new opportunities.
However, networking isn't just about business. Being personable is just as important as being professional. When you're well-liked at your workplace, you'll be more likely to be considered for exciting opportunities and forge uplifting friendships along the way.
Ultimately, the key to successful networking is prioritizing reciprocity. Rather than focusing on what you can get from your colleagues, you should always think about how you can provide value to them, too.
The Value of Networking
Building relationships in the workplace has many benefits for employees and businesses alike. For example, internal networking can help employees grow within their companies. Meanwhile, businesses that encourage networking often report higher employee retention rates, increased productivity and employee development through mentorship.
Due to these benefits, it's no wonder that a LinkedIn study found that 80% of professionals say that networking is essential to their career success.
The Art of Networking At Work
Now that you understand the importance of networking, you may be wondering where to start. The best networking strategies are multi-faceted—you'll form more connections if you pursue various methods. With that in mind, here are five ways to confidently connect with your colleagues in the workplace:
#1 Initiate New Relationships
The first step of networking is to start conversations with your colleagues. This could look like asking a coworker to coffee or inviting them to have lunch with you over Zoom.
Once you're engaging with a colleague, listen for areas where you can exchange value with one another. Maybe you have a contact from a previous job that would benefit them. Or maybe you want to pick their brain about a hot-button issue in your industry. 
No matter what your goals are, make sure you engage with your colleagues as people. If you spend the entire time pitching the other person, you won't get the chance to build valuable sociable rapport. 
#2 Participate in Company Events
External networking often involves attending professional conferences. While you can certainly do that with your colleagues, you can just as easily nurture relationships with your co-workers by participating in your company's virtual or in-person events. 
Before you attend any event, make sure to do your prep work. For instance, you may want to research the event's speaker online and jot down a few questions to ask during the Q&A. This will help you stand out to both your colleagues and the speaker.
You can also use these events as a chance to catch up with co-workers, engage with new hires and boost your visibility with your boss by having candid discussions about the event. 
#3 Follow-Up With New Connections
After establishing a new contact, it's essential to follow up with them from time to time. Look for opportunities to ask questions and provide value to them. Doing so will ensure you establish trust, creating a solid foundation for a mutually beneficial relationship.
Sometimes, following up is also as simple as commenting on someone's social media post. What's important is that you make yourself visible to the other person and stay top of mind.
#4 Curate Your Professional Social Media Profiles
When you prepare for a networking call, you probably look up your colleague online first. Others will likely do the same with you. So, you want your social profiles to be professional and up-to-date. 
Make sure that your past work experience is easy to find, and occasionally share industry-related content. Doing this will give the people researching you more information to go off of, which can provide an opportunity to have richer conversations. 
#5 Volunteer For Projects at Work
When special projects come up at work, step forward and ask if you can assist. Participating in special projects allows you to work alongside a new group of people, expand your network and gain more exposure in your company.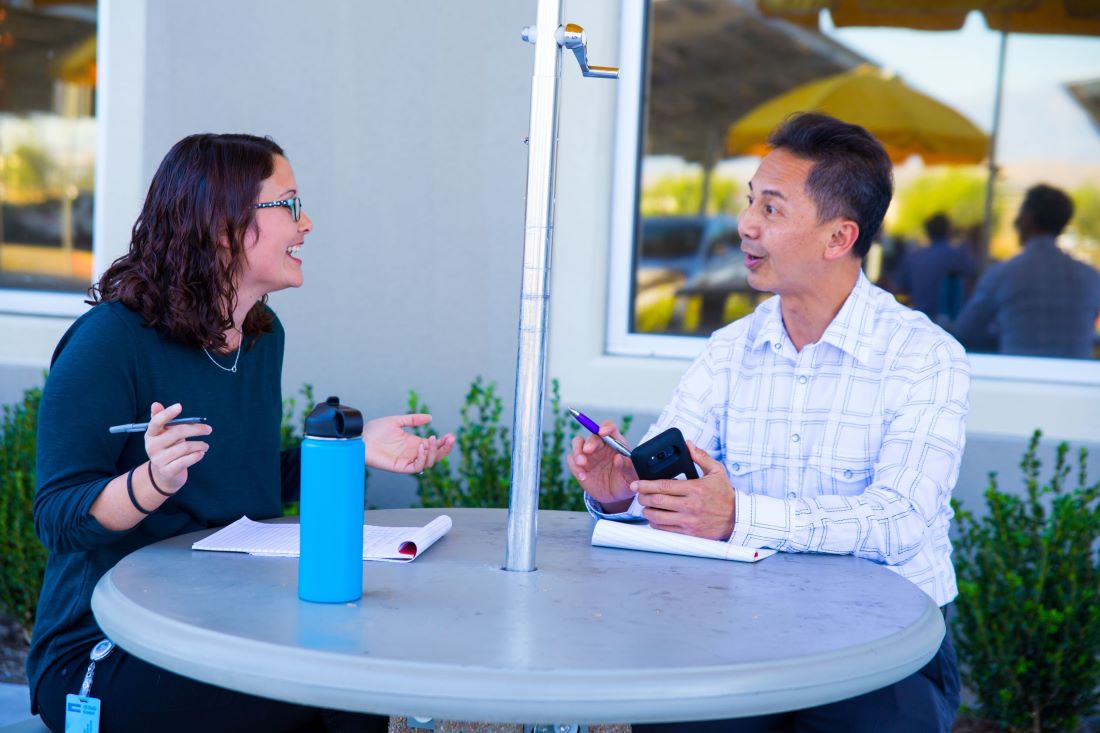 Find Your Network at UCPath
Networking is an effective way to enhance your career prospects and form stronger bonds with your colleagues. In addition, these workplace relationships can help you succeed in your current role and make lateral moves within your company in the future. 
Here at UCPath, we pride ourselves on providing our employees with a supportive networking environment. As the University of California's shared services center, we offer excellent benefits, an engaging work environment and plenty of opportunities for career advancement. 
Just take it from some of our employees:

Eileen Azate (Operations Liaison

) – "The University of California has a wealth of programs and opportunities to help you just outside of your specific role. One of the areas is the women's initiative group. In that group, you are afforded training and a network of leadership amongst women across all of the universities in the system and join additional organizations within the university outside of your day-to-day job. You build a network carried with you outside of just your normal duties. It can really open up doors and opportunities for you for years to come."

Angelina Gomez (Director of Employee Services)

– "Normally, we have a class of three to five associates at a time, which is great because then that group becomes a cohort, and they rely on one another to get through training. They make great networking—they have a network of friends from day one. You see the relationship building because they spent hours together, so I highly recommend UCPath as a career choice."



Explore the exciting career opportunities at UCPath today.