The first 90 days in a new workplace can be intimidating. Navigating new relationships with colleagues, acclimating to unfamiliar procedures and setting expectations with your superiors are just a few of the tasks you'll face as you find your niche at work.
The seven tips below will help you set yourself up for success as a new hire. Whether you're new to the workforce, pivoting to a new industry or advancing within your field, these pointers will guide you through the transition—and help you prove yourself during the first 90 days at a new job.
#1 Learn How to Navigate Your New Workplace
Your first task on day one should be getting the lay of the land. If you didn't get a tour during the interview process, ask your manager or a colleague to show you around your new workplace.
Once you're confident you won't get lost on your way to the water fountain, ask essential questions about the company structure. Get a feel for the chain of command by reviewing an organizational chart or asking your colleagues about their roles in the office.
Finally, communicate with your HR representative to ensure all your employment forms are in order. Check off as many general housekeeping tasks as possible in your first week so you can jump into your new role as quickly as possible.
#2 Understand Your Role and How You Add Value
Before setting expectations and goals with your manager, you must understand your role.
During the first week, try to get a feel for how your role fits into the overall company structure by:
Asking colleagues: Ask coworkers about their roles, how their work impacts yours, and vice versa
Conferring with people with similar titles: If you share a job description or title with someone else in your department, ask about a typical day on the job
Joining an early meeting: If you've been invited to an optional meeting, participate if your schedule allows. Observe and compile a list of questions to ask your manager or colleagues later
#3 Lead with Listening and Ask Well-Timed Questions
As mentioned above, your first 90 days should primarily be spent learning the ropes. Be as receptive as possible to information about the organization, internal processes, potential setbacks and workplace culture.
Take the initiative to ask questions. But make sure to time them well—instead of interrupting a meeting to ask a question, for instance, make a list of questions you can ask your team at the end of (or after) the meeting.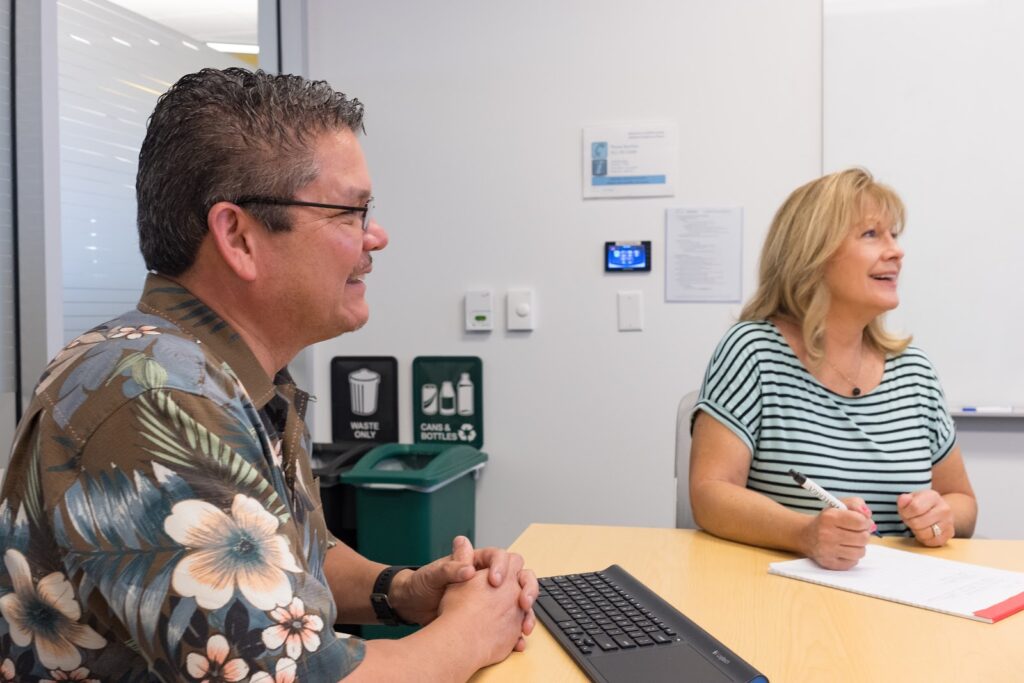 #4 Focus on Relationships
Asking questions can help you build relationships—a critical part of getting comfortable in your new workplace. One study suggests that people who ask more questions (particularly follow-up questions) are more well-liked by their conversation partners (in this case, colleagues).
To start building relationships at work, be sure to:
Introduce yourself: Introducing yourself can help you build confidence and comfort in the workplace
Ask for introductions: You can get a feel for group dynamics by asking some of the first people you meet to introduce you to someone else
Take social opportunities when possible: During your first 90 days, accept lunch invitations whenever possible—or invite people yourself
Building relationships with colleagues can help you get comfortable in a new environment, expand your network for future opportunities, and even support your workplace satisfaction.
#5 Keep an Open Mind and Be Humble
While you'll want to prove yourself right away, remember to be as receptive as possible. You've already proven that you can do the job—that's why you were hired.
Your first 90 days are, at their core, an opportunity to learn from others. Your colleagues already know the ropes, and are familiar with existing pain points. The first 90 days in a new workplace can be intimidating. Navigating new relationships with colleagues, acclimating to unfamiliar procedures and setting expectations with your superiors are just a few of the tasks you'll face as you find your niche at work. Keep an open mind and embrace the teaching moments.
#6 Define Success with Your Superior
During your first three months on the job, start building a rapport with your manager and other leaders. As you get to know your superior, make sure to intentionally:
Establish their expectations for success: You can't meet expectations if you don't know what the benchmarks are. Ask your manager for clear-cut explanations of their standards
Identify potential roadblocks: Are you still working on a skill that's critical to your daily responsibilities? Be open with your superiors about existing challenges and work together to overcome them
#7 Challenge Yourself and Ask for Feedback
As you get more comfortable in your new work environment, don't be afraid to challenge yourself. Ask if there's an opportunity to join a project team or sign up for the next professional development opportunity.
But as you challenge yourself, remember to ask for feedback:
Make it clear that you're open to constructive criticism
Be upfront about mistakes or challenges in completing your work
Ask for advice when you need it
Opening yourself up to support from colleagues will show that you're doing your best to meet expectations.
UCPath: Connecting Visionaries with Opportunities
Your first 90 days at a new job will be eye-opening, challenging and exciting. Perhaps most importantly, your first three months offer a massive opportunity for learning—to start meeting expectations right away, use the tips above to help you learn as much as possible about your new workplace.
If you're looking for a career with growth opportunities in a culture of learning, look no further than UCPath. As the shared services center for the University of California system, we support and manage payroll, benefits and other HR transactions for more than 230,000 UC employees.
Plus, our work environment is top-tier: a stimulating, supportive, and diverse culture of visionary thinkers and bright minds. If you are passionate about public service and making a difference, learn more about working at UCPath.