Human resources (HR) is central to maintaining a robust higher education talent pipeline, supporting faculty and staff and building new skills across an institution. With this in mind, UCPath fulfills a unique role in the University of California's (UC) mission.
The university's distinctive mission is to serve society as a center of higher learning, providing long-term societal benefits through transmitting advanced knowledge, discovering new knowledge, and functioning as an active working repository of organized knowledge. That obligation, more specifically, includes undergraduate education, graduate and professional education, research, and other kinds of public service, which are shaped and bounded by the pervasive central mission of discovering and advancing knowledge.
Initially conceived to modernize and consolidate the university's 11 different payroll systems, UCPath serves more than 230,000 employees across 20 locations. Since completed in 2020, the shared services hub has been continuously improving to support the mission of the entire University of California.
What is UCPath and How Does It Fulfill the Mission of the University of California
UCPath stands for UC Payroll, Academic Personnel, Timekeeping and Human Resources. Under the Office of the President, UCPath is a centralized transactional hub delivering payroll, HR and benefits services to UC employees.
A crucial element of UCPath's mission is to support all those who support the University of California's core mission of teaching, research and public service. UCPath expressly strengthens the university's ability to respond to changing business needs.
More specifically, UCPath supports UC by providing:
Payroll support: Calculates and delivers pay, answers inquiries about pay rates, tax deductions and direct deposit setup
Benefits support: Manages updates to UC employee benefit plans, guides employees through the benefits enrollment and responds to their benefits questions
Employee self-service support: Manages online self-service portal that enables employees to update personal information, view pay statements, access forms and find a wealth of information — from how to set up direct deposit to adding a new dependent
HR support: Takes care of employee and job changes, such as leaves of absence, pay changes and verifications of employment
Our mission underscores that achieving this requires dedication to becoming the premier HR system and service provider within US higher education and a team of trailblazers.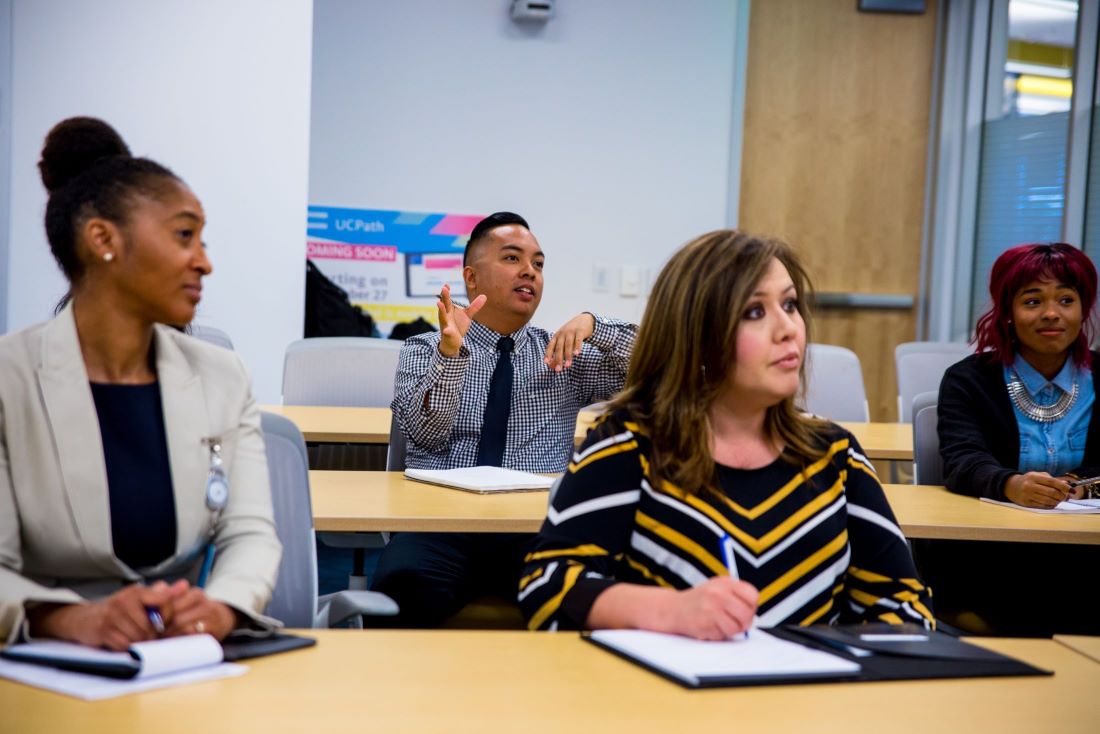 The Most Important Part of Supporting UC's Mission
As higher education institutions seek to adapt to a faster, more informed world, employing the right talent directly impacts how well universities navigate new challenges and subsequently create positive student experiences. The benefits of being a UC employee are vast. However, the most prominent part of our mission is public service. "We take care of UC employees, and we take care of our team members within UCPath," says Shree, finance manager. "I believe that's important to what UCPath stands for, and it shows our true colors."
People Are the Heartbeat of the Mission
UCPath is a great place to support the UC mission for several reasons. Most of all, we fully believe we are one team. "The type of person who succeeds here is someone willing to take that next step to be innovative and break down walls," according to Shree, "A lot of times, you don't get to have that type of exploration in your career."
As Eileen confirms: "The University of California has a wealth of programs and opportunities to help you outside your specific role. For example, in the Women's Initiative group, you are afforded training and access to a leadership network amongst women across all of the universities in the system. It puts forth a perspective on how to change and make a difference."
Finally, prioritizing equity leads to an environment full of camaraderie and internal support. Shoab, a process improvement analyst, is part of a team that takes bonding walks during work breaks. Shoab says, "There's always a lot of opportunity to build strong relationships at UCPath." Shoab also appreciates regular social events and "get-togethers where you can meet other people you don't interact with all the time."
UCPath works as a collaborative, innovative, and customer-focused service provider — which extends to its employees. The same pursuit of learning and improvement throughout the university aligns with UC's mission. If the UCPath team sounds like one you'd like to be part of, apply today!