The talk around the watercooler these days at UCPath goes beyond the latest Netflix binge-worthy series or YouTube sensation.
UCPath staffers are staying ahead of the curve on potential blockbuster TV shows by reading buzzworthy fiction and non-fiction books during their downtime. They are a part of the millions of Americans who take part in book clubs every month.
The UCPath Center book club meets every four to five weeks via Zoom on Friday afternoons.
"We work hard every day," said Anna Pardue, payroll business analyst and founder of the UCPath book club. "This gives us a bit of an escape. Talking about something other than our jobs that tie us together is priceless."
Pardue said the inspiration to create a UCPath book club came from her positive experience joining a book club when she first moved to Moreno Valley, California. She was looking to meet like-minded friends in her new hometown and thought the concept would work well at UCPath.
"I absolutely loved it," she said. "I was immediately hooked, and I figured it would be a great hobby for me to share with my coworkers. It's helped me foster relationships and build friendships with my peers, and it provides a way for us to challenge our minds, stretch our imaginations, and celebrate each other's differences."
On the Bookshelf
Pardue said the workplace-friendly book club reads all kinds of genres, including fiction, history, dystopian, mystery, fantasy, memoirs, short stories and classics. Past book selections have included The Secret to Hummingbird Cake by Celeste Fletcher, Uncommon Type: Some Stories by actor Tom Hanks and The Kingkiller Chronicle by Patrick Rothfuss.
Pardue said she is continually surprised about the book choices and the depth of the club's discussions over the past three years. "I love our diversity. We are constantly choosing books that I've never heard of or would never pick up on my own, and we've found some real gems together," she noted.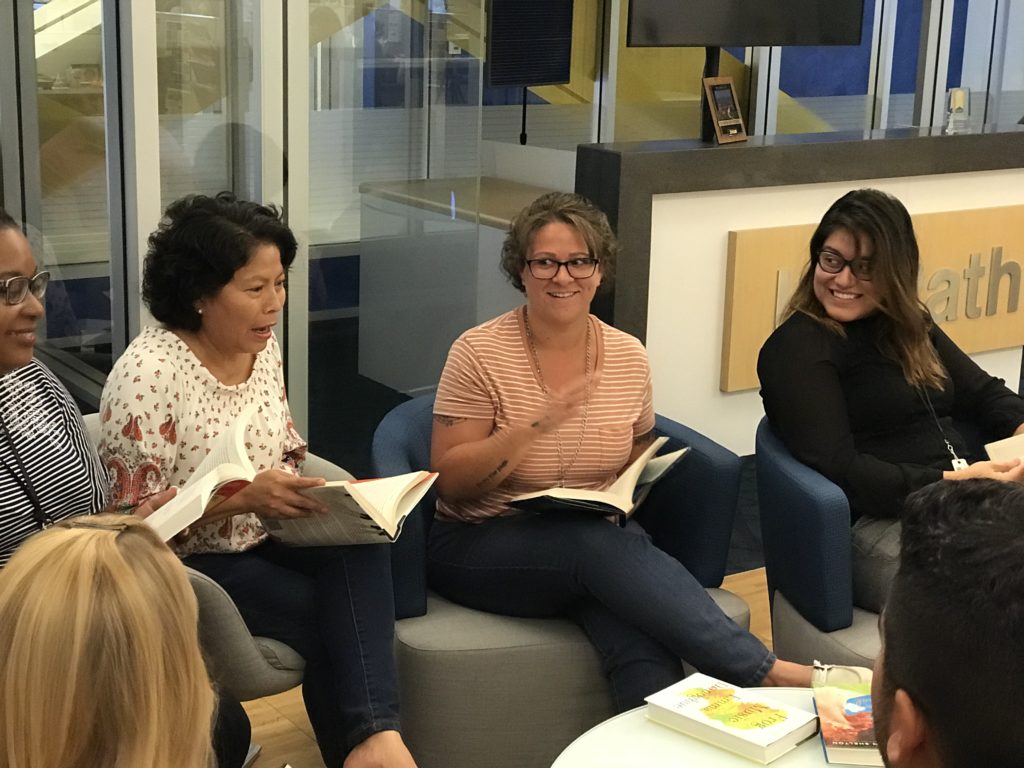 Perhaps the most spirited discussions revolve around an unpopular book, Pardue revealed. She said her favorite book club sessions are the ones where UCPath bookworms say they are divided about the book.
"I might go into a meeting with mixed feelings about – or even strongly disliking –  the book we've just read, but then come out of it with true appreciation for it because my fellow readers opened my eyes to interesting character traits, storylines or subtle hints they'd picked up on that I'd completely missed," Pardue added.
Krystle Guile said she joined the UCPath book club on her first day as payroll associate.
"I wanted to join the book club because, while I love to read, I rarely make the time to do so when there are other things taking my attention," Guile added. "Having a place to go back to and discuss our books is the motivation I needed to start reading again, and it's worked!"
Benefits of Joining a Book Club
Book clubs bring people together to share ideas and thoughts and, as a result, build rapport. Conversations beyond work tasks strengthen a teamwork mentality.
According to CNBC, leadership experts say workplace book clubs strengthen bonds between coworkers, further develop emotional intelligence and boost employee performance.
Erica White now leads the group and says she's glad UCPath has a book club because it's a nice change to her daily duties as a benefits associate. "It's a great way to meet new people," she added. "The book club is an ice breaker of sorts because I found people that share my interests."
The book club reinforces the idea that we are one team, Guile said. "We have people in book club from all over UCPath, and we are lucky enough to have members from other locations as well."
Reading Is Contagious
Current book club members say they love the book club and would eagerly welcome new members into the fold.
"We have a great group of individuals and would love to have even more members," White said. "It is really fun, even if you think you don't have time to read."
For first-timers, the book club offers the option to nominate all three reading choices, Pardue explained. "We'll pick a book you'll want to read," she added.
Some readers choose to buy or borrow a traditional paper copy from the library, but tech-savvy readers can also tap into apps like Kindle to read the book on their e-reader device or smartphone and Audible to listen to books during their commutes. "If you don't have the book and someone finishes their copy, we all share the books among each other," Pardue said.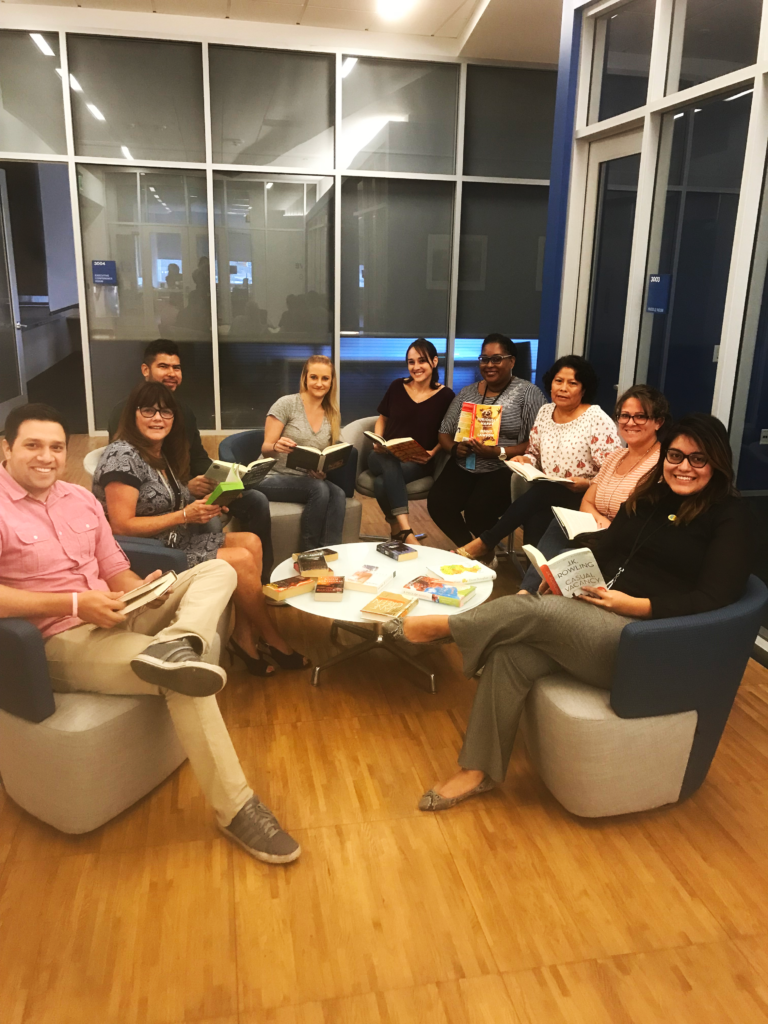 Frances Burgos, accounts receivable associate, said the book club inspired her in 2018 to read as many books as she could. She even created a spreadsheet to keep track, including a brief description and ratings, "so I don't have to rely on my memory to recommend books to others who might be looking for a good book to read," she added. "This gives me a sense of fulfillment as I work toward a goal that I enjoy so much."
At the end of the year, Pardue said the book club holds a book drive to stock the shelves in the UCPath breakroom. "We are always happy to receive book donations year-round," she added.
"I'm grateful something like this book club exists here at UCPath," Guile concluded. "It makes my work-life more fun!"
Looking to get back into the reading habit and meet new friends? Consider joining the UCPath team (and the UCPath book club) by searching current career opportunities now.