Happiness at work is the key to unleashing employee potential and productivity. UCPath Center employees say they genuinely enjoy coming to work to execute different tasks, to challenge themselves and to have fun collaborating with their colleagues.
These qualities paved the way for UCPath Center in Riverside to win the Inland Empire Top Workplaces 2017 award in November 2017. With 229 employees, UCPath Center was recognized as one of the top midsize businesses to work for in the Inland Empire region.
"We're incredibly honored to be selected as a top workplace," said Cindy Ferrini, UCPath Center's human resources business partner. "This award holds great meaning because the employees of the center made it possible by sharing their thoughts about our culture. We currently have 270 full-time employees and our goal is to hire an additional 100+ in the coming year. So to be recognized as a premier employer in Southern California will greatly help us in our efforts to grow as an organization."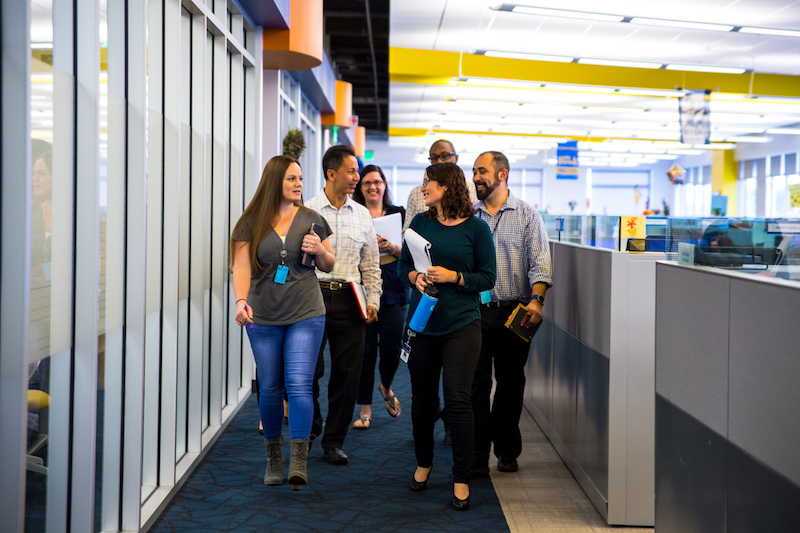 Studies have shown there is a connection between happy employees and performance. According to Harvard Business Review research, a positive workplace culture encompasses the following characteristics:
Seeking out and caring for their colleagues as friends
Providing support for one another, including offering kindness and compassion
Avoiding blame and forgiving mistakes
Inspiring one another at work
Emphasizing the meaningfulness of the work
Treating one another with respect, gratitude, trust, and integrity
"The UCPath Center is a great place to work because it provides us so much opportunity to grow professionally and personally," said Stephanie Hernandez. The workforce administration assistant added that employees have many opportunities to be successful. "We have a team behind us that's so supportive and they want us to continually achieve amazing things."
Interesting and Meaningful Work
Monica Johnson said the UCPath Center fosters a positive work environment, as she is continually learning and gaining new skills day in, day out. "I love working here because I make a difference," she added.
Read about Monica Johnson's journey from the Peace Corps to the UCPath Center
As a workforce administration supervisor, Johnson oversees a team that is responsible for onboarding all new hires, maintaining personnel records, verifying that employees' job information is correct, handling terminations and unemployment insurance, as well as paying workers on time.
"We pride ourselves on data integrity," she continued. "We have an important role. If we enter data incorrectly, then that causes a major downstream – employees won't be paid correctly, and this is their livelihood."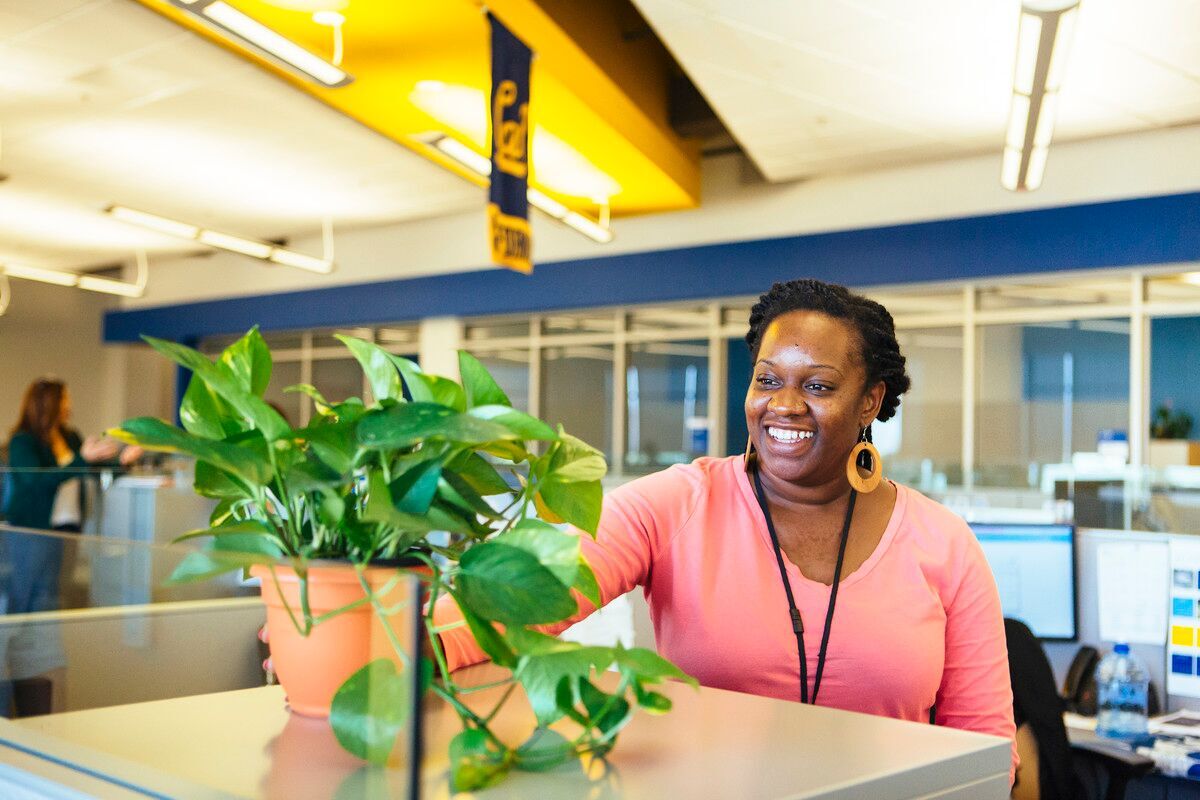 Eileen Arzate said she takes pride in her role at UCPath Center as employee services supervisor because she can champion change. "I enjoy helping my direct reports feel innovative, and thinking of different ways to do things," she continued. "Giving them the motivation to implement those ideas is what excites me."
As part of the quality and performance management team, Caroline Rodriguez said her work makes a difference because her team is in charge of tracking and monitoring data at UCPath Center. "We study the data to make sure all of UCPath Center's services and procedures are on track, and that we meet our goals," the performance metrics and quality analyst explained.
A Sense of Accomplishment
Employees at UCPath Center agreed that the leadership team encourages their professional growth, and helps them achieve skills to advance to the next level.
UCPath Center challenges its staff, Rodriguez explained, and she finds management rewards teams for going the extra mile. "My manager is great about pushing me to learn something different and to think outside of the box," Rodriguez said. "We will have a lot of work ahead of us that will be challenging, but I'm a part of a great team – it's definitely something we can handle."
Positive Workplace Relationships
An important happiness driver is having friends at work. According to a 2016 survey by human resource consulting firm Robert Half of more than 12,000 Canadian and U.S. workers, those with good working relationships with their teammates are 2.5 times more likely to be happy at work.
"We're continuously growing here," Johnson said. "We have the opportunity to work together, meet a lot of new friends, and there's always people within your team that's going to support you. It's a great environment to learn from multiple people."
A work-life balance is also a priority at the UCPath Center, Arzate added. "The leadership team focuses on making sure you are happy and satisfied here so you can leave here and continue that happiness outside."
Veronica Zuno, workforce administration assistant, shared she enjoys the collaboration and camaraderie in the office the most at work. "We have built strong relationships with one another, and I definitely feel that support system from all of my team," Zuno added.
UCPath Center is a fun place to work, Rodriguez concluded. "I love the people I work with."
View
with the UCPath Center here.