Salesforce Administrator Thomas (Tom) Myers said his ties to the University of California are strong, and that bond with UC runs in his family.
"I have friends and family sprinkled throughout the system," he noted. "My family also has a UC connection, as they attended UCLA and UC San Diego. I was a UC student, a faculty member, and now a UC parent, as my son currently attends UC Berkeley."
Myers said he attended UCLA and UC Irvine's Paul Merage School of Business where he graduated with an MBA. At UCI, Myers was also a teaching assistant for a microeconomics course, and served as a mentor. 
Myers also had various professional roles at several UC campuses, including UC Riverside.
"I have a passion for the mission of the UC system and the California public education charter in general," Myers said. The UC system improves the lives of people in California and around the world through world-class educational opportunities, groundbreaking research, and top-rated health care and agricultural expertise.
March 2019 data reported that the UC system includes more than 238,000 students and around 190,000 faculty and staff, with over 1.7 million alumni living and working around the world.
"I find it very satisfying to have the opportunity to make a difference [at UCPath Center] in improving UC's systems. Perhaps we can provide a model for other institutions to follow," Myers continued.
Sharing Technical Expertise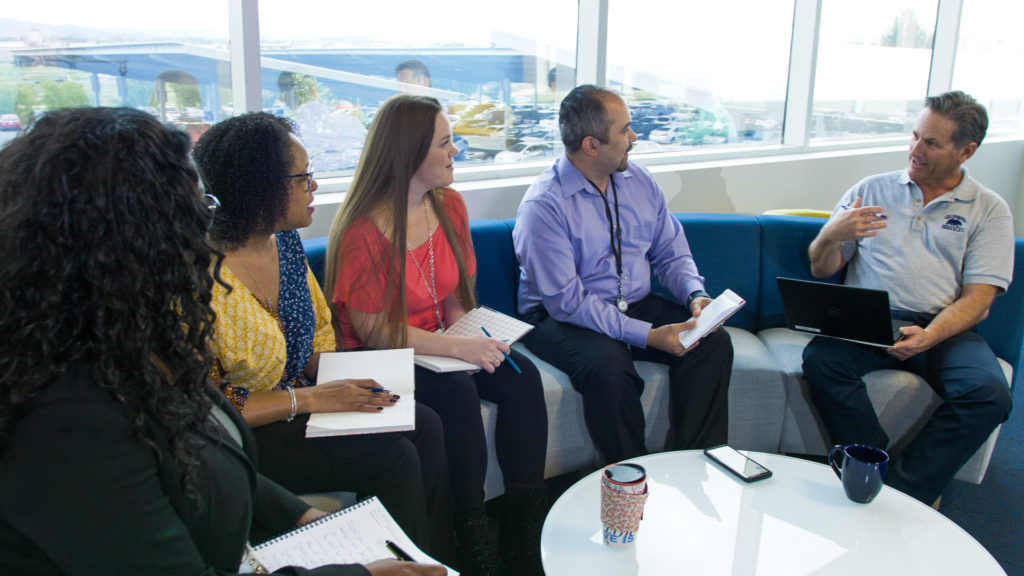 Myers is a recent addition to the UCPath Center team, as he started his current role as Salesforce administrator in February 2019. In his first few months at the shared services center, Myers said he is enjoying the challenges of applying practices from a business environment to a higher education institution.
Salesforce is a customer relationship management (CRM) tool and communication platform that allows automation and tracking of key tasks. Salesforce helps payroll with customer interaction, time efficiency, address individual customer queries while tracking progress, and integrate smart forms.

In addition, Salesforce manages incoming payroll inquiries, tracks who is handling the issue, and updates when issues have been resolved.
"The workplace is dynamic," he said of his first impressions of the UCPath Center. "We are constantly balancing new initiatives while keeping the operational environment optimized."
As a Salesforce administrator, Myers is a business leader knowledgeable about how a company operates. He is intertwined in making all departments successful through process automations; thus, integral to running a smooth and lean business.
"I've been in the Salesforce ecosystem for a while," he added. "Salesforce touches on everybody at the UCPath Center as well as our customers, including the UC campuses, medical centers and research labs. I know what I do affects everybody albeit in a small way, but little things add up."
Myers said he foresees that his career development at the UCPath Center will broaden his skillset for Salesforce applications while providing him insight into UC's campus administration.
He said he is impressed with the UCPath Center's collaborative nature so far, especially since management is open to feedback. "That made me feel part of the team right away," he said.
Myers stated he was ready for the next challenge in his career – to work for a startup within an established organization. "The UCPath Center is driving cultural change – that's exactly the environment I like," he continued. "[The position] was exactly what I was looking for, and I love doing it. …This should keep me busy for a while."
To date, Myers has three words to describe his work at the UCPath Center: dynamic, engaging and rewarding.
Merging of Technology and Culture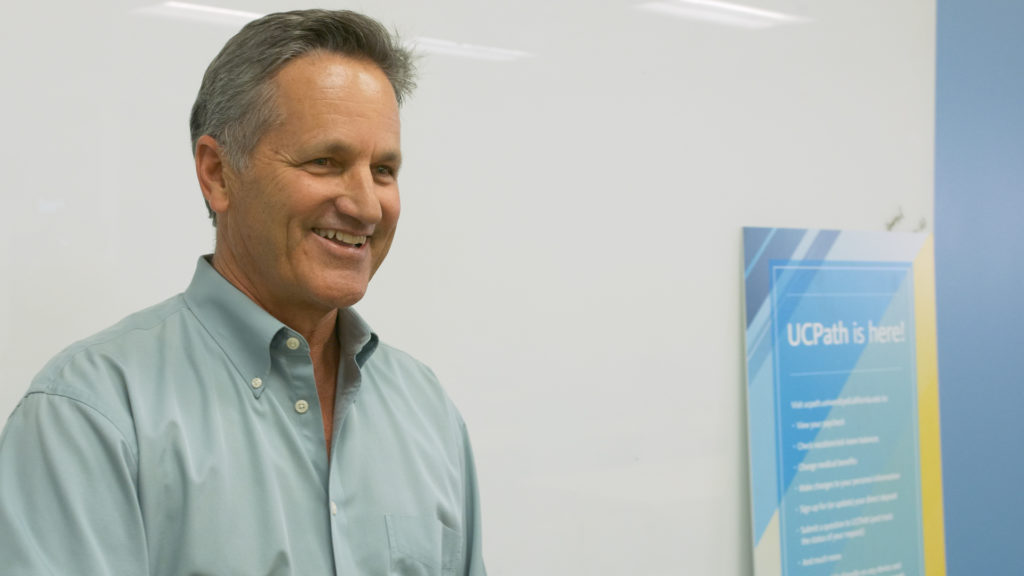 At this point in his career, Myers said the UCPath Center is a good fit for him because he can delve into two aspects of his education and work training – the technology side and the cultural side. He studied anthropology as an undergraduate at UCLA.
"Salesforce itself is on the cutting edge of innovation not only in technology, but in organizational practices and culture," Myers explained. "I went out of my way to find a place that I thought could adapt to some of those cultural aspects, as well as embrace the technology."
Salesforce is also driving cultural change, like dealing with issues of equality and inclusiveness, Myers noted. The UC system also has similar goals, as its purpose is to make higher education available to all Californians by cultivating a community reflective of the richness and diversity of the state, according to UC's diversity policy.
"[This role] is taking the IT part of me and the cultural part of me and seeing if we could make [the University of California] an even better place to work," he added.
He advised those applying to open positions at the UCPath Center should be ready to take part right on day one. "Share the passion to innovate, educate and optimize with a customer focus – in our case, helping 200,000-plus employees of the UC system," he concluded.

For those seeking a new career challenge, Meyers recommends candidates visit UCPathJobs.org.