These days, many employees say they are striving to work smarter, not harder. But what does that really mean? One way is to make sure you're developing healthy habits in order to maximize your energy and efficiency during the work day.
Experts say it's important to stay active to maintain your physical and mental health to do your job well. Self-care promotes positive self-esteem and can be a major contributing factor in giving you the best opportunity to tackle the challenges of a typical work day.
These helpful tips can help stay motivated and productive in and out of the office:
1. Sleep Matters: Research from Health.com reports that people should sleep between seven and eight hours per night. A good night's sleep contributes to a healthy lifestyle, and can benefit your heart, weight and mind. Getting enough rest can also improve your on-the-job performance, help prevent burnout, and improve your decision-making skills. In addition, you'll be in a better mood at work as it's likely that you're happier and more energetic. When you sit down at your desk, you'll be more prepared to take on the tasks of the day. 
Dr. Matthew Walker, UC Berkeley professor of neuroscience and psychology, has warned about the dangers of sleep deprivation, especially in the age of using smartphones to combat insomnia. "The silent sleep loss epidemic is one of the greatest public health challenges we face in the 21st century," Walker told UC Berkeley News. 
Walker offered the following tips to improve the quality of your sleep:
Go to bed and wake up at the same time every day – even during the weekends.
Keep your bedroom temperature cool – around 65 degrees Fahrenheit, which is optimal. Wear socks if your feet are cold.
Dim the lights and turn off all screens an hour before bedtime.
Avoid caffeine after 1 p.m., and try not to sleep right away after drinking alcohol.
2. Healthy Snacking: While it's tempting to purchase doughnuts or cupcakes for an office party, think about bringing healthy snacks instead to share with your colleagues. U.S. employees say that the presence of healthy snacks fosters a more collaborative atmosphere and a sense of fun at work.
According to Harvard Business Review, food has a direct impact on cognitive performance. As we battle to stay on top of emails, meetings and deadlines, food is fuel to help us get the job done.
UC Berkeley nutritionists advise UC employees to take snack breaks instead of eating lunch while working at your desk. Eating while trying to multitask often leads to mindless overeating. Also, keep snack portions in check – they should not be meals. Aim to keep snacks between 200-300 calories.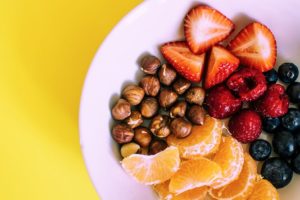 Snack Nation suggests having the following healthy office snacks in your desk when you're feeling "hangry":

Fruit
Nuts

 

Vegetables
Protein Bars
Yogurt

 

Hummus
Dark chocolate
3. Practice Good Ergonomics: A safe and healthy work environment is essential to a productive workforce. Jobs with computer use often involve repetitive motions, and/or awkward body postures. This may lead to potential issues such as eye strain, back and neck pain, joint problems and headaches. 
All organizations across the United States should strive to create an ergonomically sound workspace for all employees. The University of California, Los Angeles offers employees onsite workstation evaluations and training to promote a healthy workspace and to avoid discomfort.
The U.S. Department of Labor defines ergonomics as the science of designing the job to fit the worker, rather than physically forcing the worker's body to fit the job. UCPath Center employees have access to ergonomic solutions such as standing desks, adjustable office chairs, and on-call advisors to provide individual support.
The Occupational Safety and Health Administration advised those who spend their work days behind a desk on a computer should change their working position frequently throughout the day, and take several breaks to rest their eyes and wrists. A May 2018 study by DeskTime found that the most productive people work for 52 minutes, then break for 17 minutes. 
For more, check out the top 5 ergonomic tips you need to know.
4. Volunteer at UC Riverside (UCR) Botanic Gardens: Be sure to adapt your healthy lifestyle in the office to activities outside work. Not only will you get a strong dose of vitamin D, you'll feel good about yourself in giving back to the community. There are several causes in the Inland Empire that need your support.
Studies have shown spending time outdoors has a therapeutic effect, relieves stress and restores attention in people. Immersing yourself in nature can have a calming effect on your mind.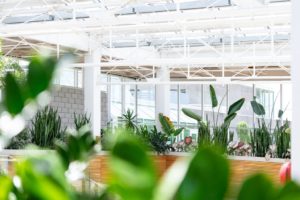 One way to spend time in nature and serve your community is to volunteer as a docent at the UC Riverside Botanic Gardens. Docents lead tours of the gardens and educate children and visitors of all ages about its flora and fauna
Volunteer orientation sessions for UCR Botanic Gardens are held on the second Tuesday of each month at 9 a.m. in the conference room at the entrance to the gardens. If you'd like to volunteer but cannot attend an orientation session, contact the gardens at ucrbg@ucr.edu or 951-784-6962.
5. Run and raise funds in a 5K: Taking part in a 5K for a non-profit is a win-win situation – it helps you get your 10,000 steps in, while your donation increases awareness about various causes.
Riverside runners and walkers can "squeeze the day" with UCR Health and the UC Riverside School of Medicine community for its inaugural 5K Run/Walk Saturday, Oct. 13. They will run/walk through the citrus groves at the California Citrus State Historic Park, and can stay afterward for the health fair with music, vendors, food and fun, kid-friendly activities.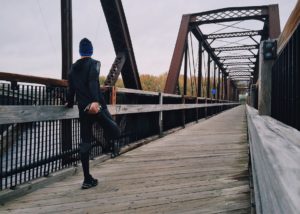 Proceeds from the run/walk will go toward Reach Out and Read, an initiative that encourages families to read aloud together, along with the Health Coaches Program, an undergraduate and recent college graduate program that supports patients with uncontrolled chronic conditions. 
6. Participate in recreational sports: The summer months offer the opportunity to take team-building activities to the next level. Joining a softball team or a dodgeball team is a great way to bond with your colleagues, as well as showing off some athletic skills. 
UCPath Center staffers held their first ever interdepartmental softball game in May, planned by Joe Araiza, talent acquisition specialist, Lorraine Chang, payroll supervisor, and George Amaya, senior employee service associate. UCPath Center employees donated funds to the Veterans Supplemental Support Network, an organization that connects service members and/or veterans to housing, employment, education, business support, health/behavioral health and financial services.
"What started as a couple employees talking about their baseball skills 'back in the day,' turned into a fun filled morning of softball and teamwork," Araiza recalled. "It was fun having employees and family members participate together on the same field."  
"This event created the opportunity for UCPC employees and their families to bond with each other," he continued. "It's like the old saying, 'the family that plays together, stays together.'"