Workplace wellness improves when employees commit to a healthy lifestyle. One such way to foster fitness and keep accountability is to walk together with your work colleagues. As an example, the UCPath Center took part in the ninth annual UC Walks Wednesday, May 16, 2018.
Now a University of California tradition, UC Walks promotes wellness and an active lifestyle by encouraging faculty, staff, retirees and students to take 30 minutes out of their day to walk. The free event also builds community and campus spirit throughout the UC system.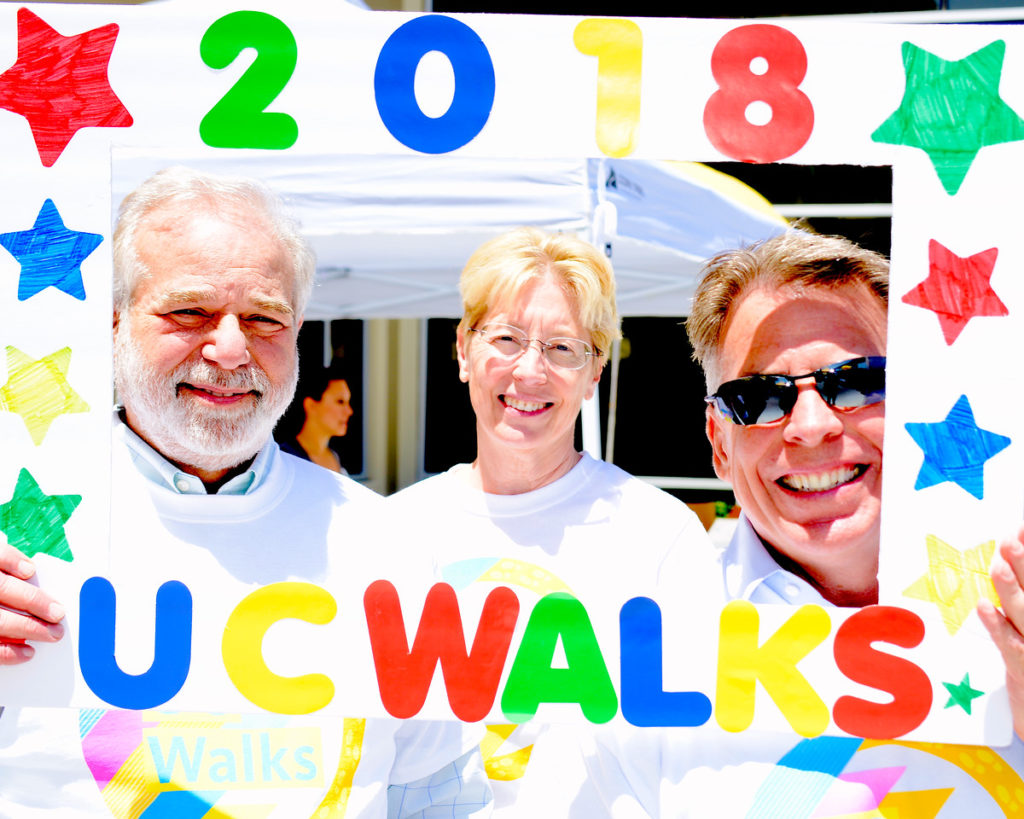 "UC Walks a fun way to network with your colleagues, and to get some exercise and fresh air," said Julie Chobdee, UC Riverside Wellness program coordinator.
With UC Walks events happening throughout the state, a large contingent of the UCPath Center's employees participated in a 30-minute group walk along a tree-lined street in front of the UCPath Center's office in Riverside.
A wellness fair on the premises offered hula-hooping, golf putting, a prop-filled selfie station and a board games table. UC medical plan vendors provided information and giveaways, along with UC Riverside Health, UCR Transportation and community members from a Riverside-based yoga company and agricultural organization.
This year's walk also featured lots of free wellness swag – including a T-shirt – raffle prizes, and refreshing fruit-infused water for participants.
Erin Warnock, human resources analyst and wellness program coordinator at the UCPath Center, said in addition to UC Walks, UCPath Center employees have kept active with MobileFit – a lunchtime workout program started and run by the University of California, Riverside wellness team.
"Employees will also have the opportunity to participate in a fun, eight-week fitness challenge later this summer," she added.
Healthy and Happy Employees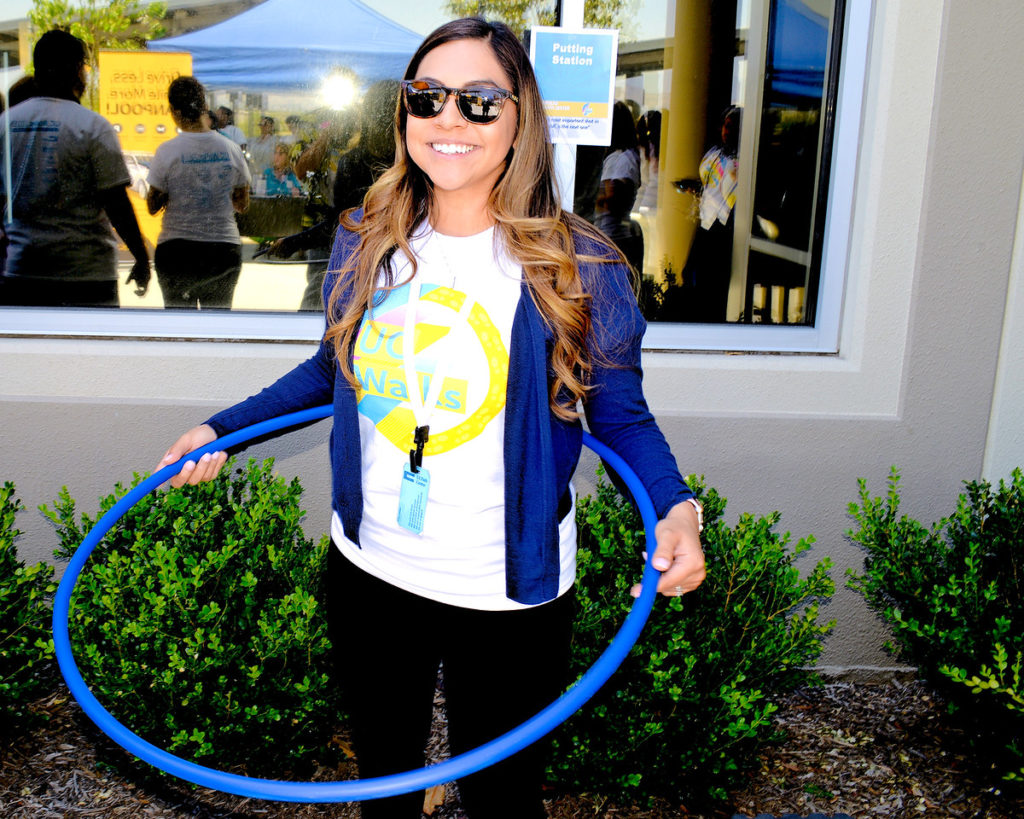 According to the HR Playbook, healthy offices boost productivity, produce a superior quality of work and strengthen employee relationships.
Evidence compiled by the Society of Human Resource Management indicates that healthier lifestyles among employees can also prove to be a plus for employers:
Employees who pursue healthful behaviors have fewer illnesses and injuries than other workers, and they recover from illnesses and injuries faster.
Employees who participate in regular physical activity have increased cardiovascular endurance.
Employees who have active lifestyles are more alert, more positive in their outlook and better able to deal effectively with the stresses and rapid changes of today's world.
UC Walks 2018 by the Numbers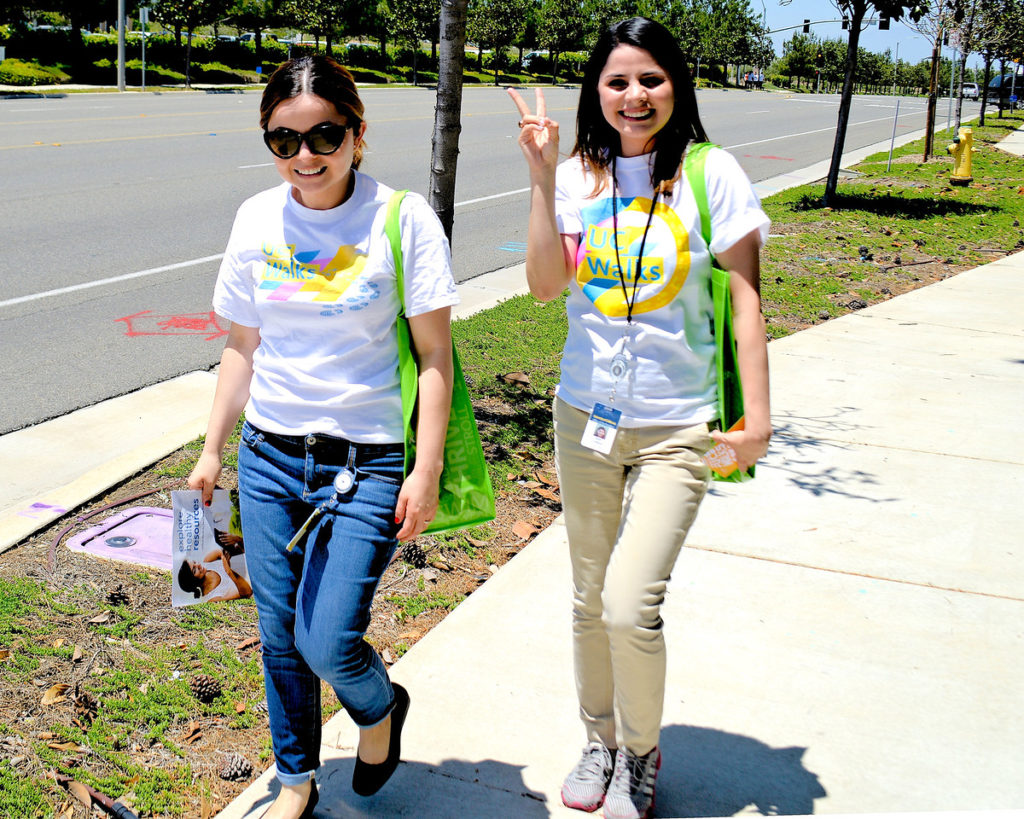 In 2018, 16 UC locations participated in UC Walks, including thousands of UC's staff, faculty, post docs, retirees, residents/fellows and students. UCPath Center staff spent around 5,910 minutes walking in 2018, compared with 2,640 minutes in 2017 – doubling their output.
The UCPath Center had two goals coming into UC Walks Day 2018, Warnock explained. "The first was to increase participation 10 percent from last year," she continued. "Our participation rate actually increased 21 percent!"
"The second goal was for employees to have fun and de-stress for the day," Warnock added. "By appearances during the event, employees were having a great time. "We later surveyed the staff. Around 100 percent of anonymous responders stated they had a fun time, with 89 percent favoring the walk."
Keep up living an active and healthy lifestyle every day. Read more how about four ways to fit in fitness at work.