As a senior business analyst for the UCPath Center's Information Technology Shared Services (ITSS) department, Roger Nguyen said his favorite aspect of his role is his relationship with his managers.
"They are always there to assist us – if we need new technologies or their support on deciding about certain topics," he added. "The UCPath Center is always on the cutting edge with bringing in new technology – including the PeopleSoft platform and UCPath online."
Nguyen said UCPath Center management supports employees' career advancement, including his own education goals.
"[Management] is hands-on regarding my annual goal setting and they seek out opportunities required for my position or for something that would help the business," he added.
In addition to the support he receives from the UCPath Center leadership, Nguyen finds the day-to-day challenges he faces in his role have helped him grow personally and professionally. He enjoys contributing to the tech innovation happening in Riverside on a daily basis.
Meeting Daily Challenges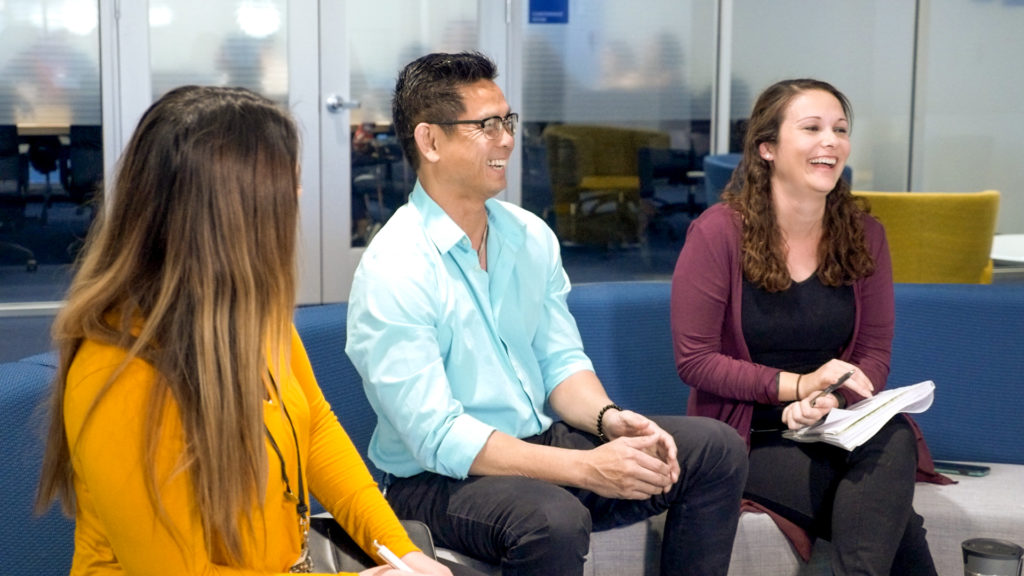 Nguyen said a typical day for him consists of interacting with the production team, the development team – also known as the "dev" team – and management to improve current business process, production support and new enhancement testing.
"On a day-to-day basis, we have to review, analyze and clean up that data, so we can process payroll," he explained. "Since we run payroll biweekly and once every month, it's always a highly intense atmosphere."
As a result, employees at the UCPath Center need to rise to the challenge of moving quickly while ensuring accuracy and serving with passion.
"I've learned to work well in challenging and critical situations because issues always come up," he added. "What I've gained professionally is to work through those situations and be the liaison between different departments, providing feedback and support."
An important aspect of Nguyen's role is customer support, training and problem analysis for software applications.
He said he considers developing the platform as one of the biggest challenges working at the UCPath Center. The end-users – employees across the University of California (UC) locations who have access to UCPath – are still new to the system and its business process, he continued.
He described his work at the UCPath Center with three words: innovative, technical and analytical.
UC Growth Opportunities
Nguyen said he saw many benefits working within the UC system. "The UCPath Center is a fairly new, up-and-coming company, so there's a lot of room for growth," he added.
"My managers are supportive of the work I've done here, and the product I've put out," he stated. "They follow up with me about my career path and let me know what is needed from me to get to the next step."
For those seeking a new career challenge, Nguyen recommends candidates visit UCPathJobs.org.
"This job is perfect for those who are passionate doing their job, and want an opportunity to advance themselves in their career," he concluded. "There are so many opportunities for movement here."